The importance and use of English keeps growing all over the world. Its currency is constantly gaining ground because of the suitability of the language for scientific and industrial purpose.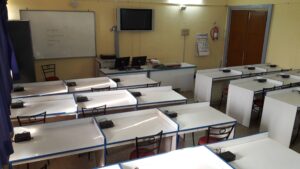 Diploma engineers need to achieve proficiency in the English language to improve their chances of employment.
Our communication laboratory has all the modern amenities. The lab has a vast space that thirty students can sit at a stretch to listen and write a standard computer system with modern technology enable students to expose them boldly in front of others. The internal appearance of the laboratory induces ever one to learn more and more with the well-experienced lecturer and instructor.